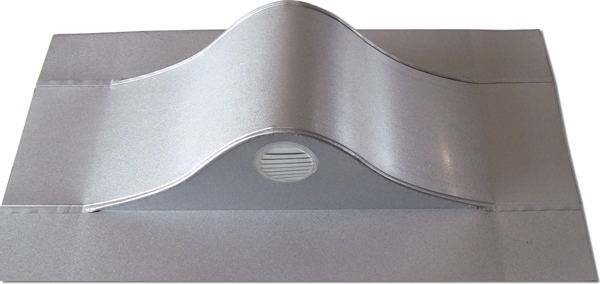 The DCSM Off-Ridge Vent comes with a built in one piece flashing flange with a 1″ return and is available in many of our standard colors. This product has been tested, engineered, and designed for high wind areas, all DCSM products have FBC and/or HVHZ approvals, quality assurance etc. For more product information please contact our office.
Specifications
Application
The DCSM Off Ridge Vents come in several different profiles specifically designed for each type of roof system. For Example:

For 5V applications, has the same 7″ flange but with a 3/4″ bend down.
For Standing Seam applications, the Off Ridge Vent has a 1″ return under for hemming onto a Z-Channel.

Materials
Panels are fabricated from 24 gauge Galvalume*.
Sizes
Availlable in 6″, 12″ and 36″ lengths.
Coatings & Finishes
26 gauge pre-painted Galvalume* panels are available in a variety of colors.
24 gauge pre-painted Galvalume* panels are available in a variety of colors and coated with a full-strength Kynar 500.
Approvals & Testing
This product has completed all the necessary testing and has a current 2007 Florida Building code product approval (FL110S2).
ADDITIONAL PANEL INFORMATION
Made from Galvalume not galvanized. Galvalume offers far superior corrosion resistance. Contact us for more details or literature.
* Galvalume sheet uses an aluminum (55%) – zinc (45%) alloy coating that offers greater corrosive resistance, higher temperature oxidation resistance, and higher heat reflectivity than standard galvanized steel.
† Kynar 500 is a premium fluorocarbon coating, produced with full strength Kynar 500 resin. This affords maximum exterior durability due to its outstanding resistance to ultraviolet radiation. These are the highest quality finishes available.